Com chay (burned rice) is a simple but very crispy and yummy dish of Ninh Binh province. It is one of the most famous food in Ninh Binh.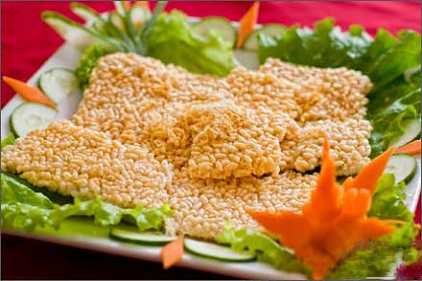 Com Chay does not mean the burn rice at the bottom of the pot. Com Chay is made from rice, pork, fried beef and vegetables, including onion, dried mushrooms and tomatoes. After throughly cooking, rice is placed in thin, circle shapes and left to cool and dry. Then, slice of steamed rice are fried in hot pan until they turn yellow and crisp.
Together with main ingredient, steamed rice, are beef, pig's heart or kidney, some vegetables like mushroom, tomato, carrot and spices such as fish sauce, pepper, red chili, onion, salt.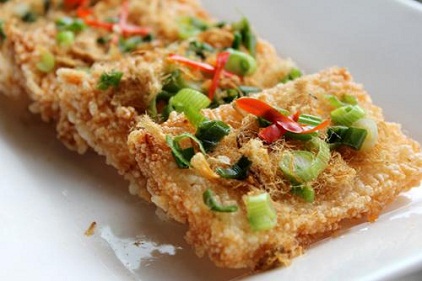 When the customers order Com Chay, the dried rice shapes is fried with sesame oil until crisp, aromatic and sizzling. Meanwhile, heart, kidney of pork normally or tender beef, marinated in spices, are stir-fired with vegetables and then poured into th fried rice. That's it, but you will get an unforgettable tastes of it.
The dish is best served with goat meat and Kim Son wine. Each bowl of com chay is perfect combination of the crispness of yellow burned rice, greasy taste of meat and the freshness of vegetables that wake up visitors' taste.