The vestiges of the French can be seen in Vietnam through its diacritic-laden written language, regal colonial buildings and cooking. While most point to pho or banh mi as banner-bearers of francophile gastronomic influences in Vietnamese cuisine, the humble bowl of bo kho can't be overlooked.
The term kho derives from a braising technique used in Vietnamese cuisine and this dish epitomises it, seeing cheaper offcuts cooked to tender, flavourful perfection. For most Vietnamese, kho dishes are comfort food and traditionally served in the home, but family-style dishes like this have grown in popularity as Saigon's growing migrant community searches for that slice, or in this case bowl, of home.
Most kho dishes such as thit kho to dau (caramelised braised pork with coconut milk) and ca kho to (braised fish in a caramel sauce) take cues from Chinese influences, but not this hearty one, which at first glance looks European. Big hunks of beef swim in a deep red-coloured broth with carrots, onion and turnips (less so potato).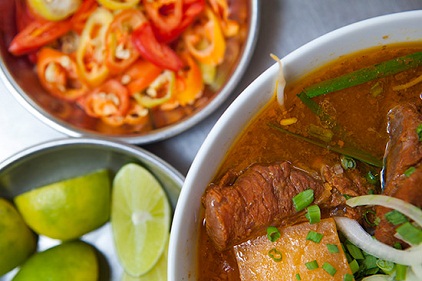 For bo kho, beef shank and flank cuts are used. The flank has tough tendons veined throughout, while shank is dense — not great if you plan to eat it as a steak, but ideal for slow cooking. The long stewing process breaks down the meats to a tender, almost gelatinous texture. Unlike most European stews, the deep red colour doesn't come from tomatoes but from annato seeds, typically used in Vietnamese dishes for this colour (they are also used in bun bo hue). The broth is Vietnamese in flavour with hints of lemongrass, ginger, star anise, cinnamon and five-spice powder.
The dish can be served with bun (rice vermicelli), mi (egg noodles), mi goi (egg noodle packet) or banh mi. Once the stew is ladled in the bowl, thinly sliced raw white onion, basil leaves and a dash of pepper are used as garnishes. As with most Vietnamese dishes, you are given a few condiments on the side to personalise your dining experience. For this particular dish, wedges of lime and sliced chillies are served. Ask for some muoi dieu, a blend of salt and pepper; squeeze in some lime and dip your beef for a little extra tang.
A bowl of bo kho can be a bit more expensive than other street food fare as beef isn't cheap in Vietnam. Most street vendors charge 30,000 VND in District 4, so expect to pay a bit more in District 1. You'll find a fine bo kho vendor at 42 Hoang Dieu who is only open for lunch, but if you are looking for something a bit more central, a number of stalls specialising in bo kho lie across the street from Bitexco tower.